The Toronto Aerospace Museum's Tiger Moth Restoration Team site.
The beginning of the beginning. July 99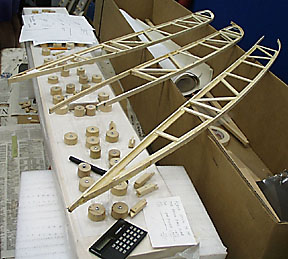 July 18, 1999.
The construction of dh82a CG-NGS continues apace. We are still experimenting with the building of the ribs and in particular to build a rig to make the test strips of wood to make the test ribs. Our Wednesday group of Bob, Ian, William, Charles, Sharma, Mike and AP were all busy this past week, either working on the table saw rig (see pic below) or on improving on the rib building procedure (ditto)
Left, starting clockwise from the left, William (bill), Charles, Sharma and Bob at work on the table saw rig. Right, William and Ian cogitate on the rib problem. July 99

| | | |
| --- | --- | --- |
| | | |
"Cogito, ergo ribus"
(I think, therefore I rib!)
Bob Murphy, team leader, hard at work, July 14.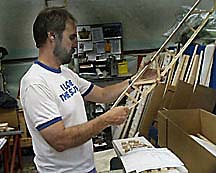 For those of you who missed it, read Bob's letter from July 1 which presents this very worthy project.
There is still plenty to be done on this web page (links, etc) and I'd really appreciate any and all contributions by way of photos, art, etc. We're always looking for volunteers, both skilled and unskilled (see above-mentioned Letter for more detail about this).I've applied for this site to be a part of the Tiger Moth web ring and this should be done shortly.If you do send in photos though, please make sure you have permission or at least some kind of e-mail address I can get in touch with to get this clearance.
You can contact Bob at bobmurphy1@compuserve.com
or myself at ahovasse@nationalpost.com
The Tiger Moth Ring is maintained by Flying Wires, operators of Tiger Moth G-AJHS.
[Previous 5 Sites |Skip Previous Site |Previous |Next |Skip Next Site |Next 5 Sites |Random Site |List Sites ]